COIMBATORE: The 1886 Benz Motorwagen – the world's first horseless carriage — was designed to drive for a maximum of 15 minutes. But, on Wednesday, the Gedee Group attempted to drive a replica of the car for 500km from Coimbatore to Chennai — the longest drive by the car in a single stretch.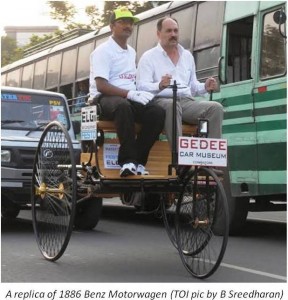 Avid car collector and automobile enthusiast Manvendra Singh (Rana of Barwani, Indore) flagged off the ride from the Gedee Car Museum at 4.30pm on Wednesday. He also drove the car up to the Neelambur Toll Plaza, which is close to 30Km from the museum.
"It is an honour to be part of a historic ride like this. The car is an example of excellent engineering and to be able to recreate it with the same precision and quality is a hallmark in itself," said Singh before beginning the ride. Singh also owns an 1886 Benz Motorwagen designed by the Gedee Group.
The car was designed by Carl Benz and was patented in 1886. Until now, the record for the longest drive in the car was held by Carl's wife Bertha Benz. She drove from Mannheim to Pforzheim and back travelling 194Km along with her sons, Eugen and Richard.
"With this ride she proved the feasibility of the car as a means of travel," said G D Gopal, chairman of G D Naidu Charities.
The Gedee Group started designing replicas of the car in 2012, and the first car was ready in 2013. Following a series of trial runs and appreciation by experts across the globe, G D Gopal decided to attempt longer distances.
On June 13 this year, the group attempted to drive the car up to Salem covering 165km in almost nine hours. "Having successfully completed this ride, we gained confidence that we will be able to ride a longer distance. So, we decided that we will drive the car up to Chennai," G D Gopal said.
The car will travel for almost 30 hours to reach Chennai at 10.30pm on Friday. The G D Group has organised a convoy to travel along with the car to Chennai.
A total of 50l fuel (Benzene) and close to 100l (water) for coolant is being carried by the convoy."Six drivers will be a part of the ride, and we will change the drivers every 30km. These drivers are experienced and were a part of the ride to Salem," said assistant general manager, operations, UMS Technologies Limited, N Ramaraj, who is also accompanying the team for the ride.
The car will be received by the commissioner of tourism and managing director, Tamil Nadu Tourism Development Corporation, Har Sahay Meena, and Consul General of Germany, Chennai, Achim Fabig, in Chennai on Friday.
(Source: http://timesofindia.indiatimes.com/city/chennai/Replica-of-1886-Benz-Motorwagen-leaves-Coimbatore-on-the-longest-drive/articleshow/49355500.cms)